Whether you are travelling alone, as a couple or family, or as a group (maximum 11), you can enjoy your own private guided custom South Island tour, designed and personalised to your requirements.
Your New Zealand local private tour guide is Terry Thomsen. Read about Terry here.
Scroll down for suggested itineraries and destinations in the South Island.

Testimonials
I have travelled extensively and this was, without question, the best guided tour I have ever taken. The level of professionalism and knowledge was unsurpassed. This combined with a personal touch not found with larger tour groups, made our trip to New Zealand one my son and I will never forget. When we were dropped off at the airport (after our six day tour) we felt we were saying goodbye to a good friend rather than a tour guide' – Wayne Gourlay, USA.
'Terry provided us with a magnificent tour of the South Island, that was full of insight and fun, and in every way professional'. – Ben, USA
'Terry planned the absolute best tour possible considering my time constraints and interests. Had I only known what a fantastic experience the South Island would be in the care of such a genial, knowledgeable and professional guide as Terry, I would somehow have found more time.' – Jock, GA, USA
Additional older testimonials are on TripAdvisor
(Despite the TripAdvisor notice, please note that The Inside Story is NOT closed, and is operating private multiday South Island tours)

Christchurch – Tekapo – Aoraki/Mt Cook – Christchurch
2 – 3 days
Get among the highest peaks of the Southern Alps, New Zealand's highest, just over a half-day's driving from Christchurch. We pass through the rolling hill country of South Canterbury, the lakeside village of Tekapo, and the wide-open spaces of the Mackenzie basin. The approach to Aoraki/Mt Cook Village is by the shore of the distinctively milky-blue Lake Pukaki. At our destination you may take a short walk, or alternatively a scenic flight.
Read about South Island destinations.


Christchurch – West Coast – Franz Josef Glacier – Punakaiki – Christchurch
2 – 3 days
An alpine drive over the Southern Alps, via Arthur's Pass, to the South Island's wild, remote West Coast. Visit two of its top attractions: Franz Josef Glacier, where you can walk in a spectacular
walled valley to view the icy terminus; then the Pancake Rocks at Punakaiki on a stunning coastline.
Read about South Island destinations.

Christchurch – Kaikoura – Hanmer Springs – Christchurch
2 days
An easy loop, without too much driving, north of Christchurch. Visit coastal Kaikoura, with its whalewatching, dolphin swimming (or just watching), seal swimming and marine bird watching opportunities.
Then visit pretty sub-alpine Hanmer and take a dip in the thermal pools, before returning to Christchurch, optionally via the wineries at Waipara.
Read about South Island destinations

Christchurch – Tekapo – Aoraki/Mt Cook – Queenstown – Milford Sound – Christchurch
4 – 5 days
Milford Sound is a long way from Christchurch, and this tour gets you there. On the way you get into the heart of the Southern Alps at Aoraki/Mt Cook, and enjoy the international resort town of Queenstown. The return optionally passes through Dunedin.
From the plains near Christchurch to the sheer fiord of Milford Sound, and the South Island's finest mountain and lake scenery en route, it is astonishing how so much diverse scenery can be fitted into one island.
Read about South Island destinations

Christchurch – Tekapo – Mt Cook – Wanaka – Queenstown – Christchurch
Get among New Zealand's highest peaks at Mt Cook, then enjoy some time seeing the sights in the Wanaka and Queenstown area – plenty to see and do here! The return trip to Christchurch allows you to see the dry craggy landscapes of Central Otago, the Moeraki Boulders and the old town and penguins of Oamaru.
Read about South Island destinations

Christchurch – Tekapo – Mt Cook – Queenstown – Franz Josef Glacier – Christchurch
4 – 5 days
A classic South Island circuit, with two crossings of the Southern Alps, at Haast Pass and Arthur's Pass. Quite a lot of driving time, but you will see the utterly different landscapes on each side of the mountains: the expansive, high open country to the east, and the dense rainforests, lakes and rivers on the West Coast. Tour highlights include Tekapo, Mt Cook Village, Queenstown and the glaciers on the West Coast.
Read about South Island destinations

Christchurch – Tekapo – Mt Cook – Queenstown – Milford Sound – Franz Josef Glacier – Christchurch
5 – 6 days
A rewarding 'grand tour' of the South Island's top attractions on both sides of the Southern Alps. Where else in the world can you pack high peaks, glaciers, a fiord, numerous lakes and rivers, lush temperate rainforest, montane grasslands, farmland and an international resort town, into such a short journey?
Read about South Island destinations

Christchurch – Tekapo – Mt Cook – Oamaru – Dunedin – Te Anau – Milford Sound – Queenstown – Franz Josef Glacier – Punakaiki -Christchurch
7 – 8 days
This sweep of the southern and western parts of the South Island takes you to most of New Zealand's most famous scenic destinations. It also includes Oamaru and Dunedin with their historical buildings and coastal wildlife. .

Longer tours
If you have more than eight days, you can take a more leisurely tour of South Island's top destinations mentioned above. Extra time will allow you to enjoy interesting detours, nature walks, gardens, beach visits, wine tasting, distinctive cafes, restaurants and bars, or just soak up the views.
You could also add more destinations such as:
Nelson and Golden Bay. The northern end of the South Island has three national parks, attractive short walks, excellent beaches, and plentiful artisanal food and crafts.
The Marlborough Sounds, picturesque drowned valleys, with NZ's largest wine-growing area just to the south.
Or just spend an extra day or so in and around Christchurch, exploring the city and visiting Akaroa.
Read about South Island destinations
Request more information about a private guided South Island tour



SOUTH ISLAND DESTINATIONS
Christchurch
The South Island's largest city has historic stone buildings, lovely public and private gardens and the River Avon lazily coursing through. There is surprisingly fine scenery on the city outskirts; look out for sandy beaches, high rocky headlands, the old port town of Lyttelton with its steep streets of old wooden cottages, and excellent city and coastal views from the Port Hills.
Christchurch is an excellent base for popular day trips. You can travel across Banks Peninsula to the pretty seaside town of Akaroa; head up to Arthur's Pass in the Southern Alps; visit the thermal pools at Hanmer Springs (can be combined with winery visits); or Kaikoura to go whale watching or swimming with dolphins.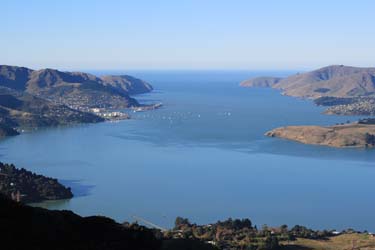 Read the private day tours page for more information about these destinations in the vicinity of Christchurch.

Tekapo
Set on a striking milky-blue lake of the same name, Tekapo is a resort village that is is best known for the much photographed little stone Church of the Good Shepherd on the lake shore. Adjacent Mt John has fabulous views across the lakes to the Southern Alps, as well as being the site of New Zealand's largest astronomical observatory. The village also has a beautifully landscaped hot pool complex, skating and tubing.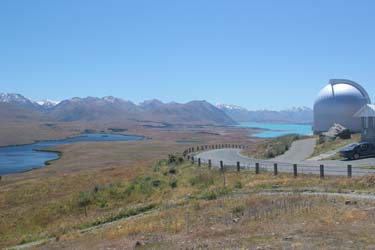 Aoraki/Mt Cook National Park
The best place to see New Zealand's highest peaks, including 3,754 m (12,316 ft) Aoraki/Mt Cook, in the heart of the Southern Alps, the country's largest mountain range. This is a raw wilderness of sheer peaks, glaciers, rocky moraines and wild rivers – all attesting to the extreme geological dynamism of this area. In the vicinity of Mt Cook Village, you can get amongst it all by taking short walks to viewpoints of the peaks and glaciers, or a longer walk to wonderful Hooker Lake.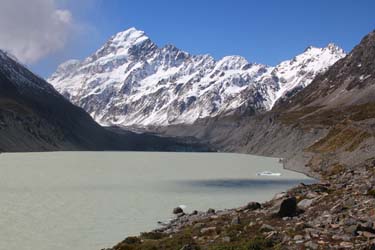 Alternatively take a boat tour on a glacier terminal lake to view ice cliffs and icebergs, or take a scenic flight or helicopter ride (with snow landing) over the peaks. On the way to Mt Cook, enjoy the wide-open spaces of the South Island's high country and its spectacular milky-blue lakes.

Queenstown
Queenstown is the South Island's major international resort, beautifully situated on the shores of Lake Wakatipu, with mountain views all around. If you have a day or so here, you may choose to take a lakeside walk, ride the gondola up Bob's Peak, take a historic steamer across the lake or visit the pretty old gold town of Arrowtown. If you are looking for outdoor activities or adventures at Queenstown, take your choice of hiking, fishing, jet-boating, white-water rafting, skiiing, bungy jumping – you name it, it's here!
Right into the evening, Queenstown bustles with dining, shopping and entertainment, making this a popular stop for a night or two.
Some interesting places are a short drive away.
Central Otago is a high, rocky and tawny landscape with a rich goldmining history, stone-fruit orchards, and wineries – if you are a wine buff, you can taste world-class pinot noir and riesling.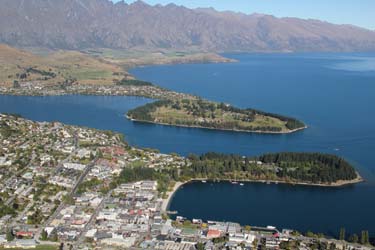 A drive by the lakeside to the head of Lake Wakatipu rewards with wonderful views towards the Southern Alps and a relaxing stop in the village of Glenorchy.

Wanaka
Wanaka is a smaller, lower-key resort than Queenstown. It is set on its own lake, looking across to the mountains of Mt Aspiring National Park. It's a good place to stop, relax, walk by the lake shore and admire the view. The direct road between Queenstown and Wanaka passes over the Crown Range, one of New Zealand's highest roads.

Te Anau
Te Anau is a laid-back little tourist town, set on the shores of the South Island's largest lake, with views across the lake to the peaks and forests of the huge Fiordland National Park. Te Anau is best known as the gateway to the Milford Sound route, but it is worth a stay in its own right. You may take a cruise across the lake to the South Island's best glow-worm cave, see very rare takahe birds in an enclosure, walk in a beautiful southern beech forest, or just stroll along the lake shore and look across at the mountains.

Milford Sound
New Zealand's most renowned scenic attraction is a long way from anywhere, but it is well worth the journey! The remote fiord is accessed by New Zealand's most dramatic alpine road among the sheer mountains of Fiordland and through the Homer Tunnel. The fiord itself is walled by precipitous rock faces, peaks and waterfalls – you need to take a cruise boat down the fiord to fully appreciate its grandeur. From the boat you often see New Zealand fur seals, and if you are lucky, dolphins.
The road to Milford Sound sets out from the small town of Te Anau, gateway to Fiordland National Park.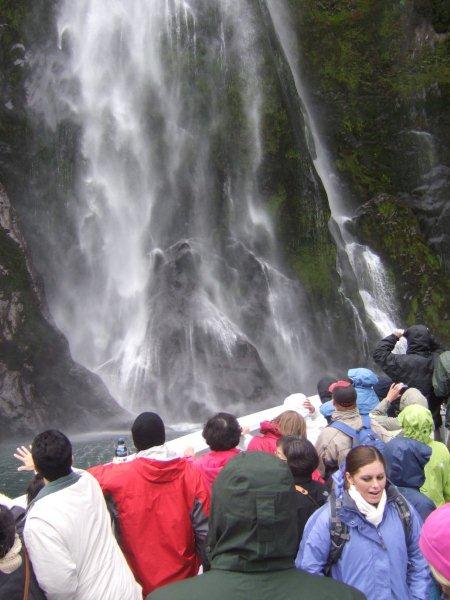 West Coast, Franz Josef Glacier
The wild West Coast, accessible by a handful of mountain passes, is another world. Scenery abounds here: rivers, lakes, innumerable mountain vistas and some of the finest temperate rain forest in the world. Its best known attractions, Franz Josef Glacier and Fox Glacier, are fed by so much snowfall in the highest parts of the Southern Alps that they flow down steeply to only a few hundred metres above sea level, the only glaciers in the world to do so in a temperate latitude such as this.
The terminus of Franz Josef Glacier can be seen by walking for about 30 minutes in a scenic deep mountain valley. Alternatively you may take a helicopter ride with brief glacier landing on either glacier. If you are energetic, you may take a glacier heli-hike.
Please note that driving and walking access to nearby Fox Glacier valley is closed indefinitely due to severe flood damage.

Punakaiki (Pancake Rocks)
The West Coast highway north of Greymouth is one of the most spectacular coastal drives in New Zealand. Here the Paparoa ranges sweep steeply down through rainforest and nikau palm trees to meet the relentless surf off the Tasman Sea.
The centrepiece of this area are the Pancake Rocks at Punakaiki, where you may view dramatic patterned limestone formations, sea surges and blowholes. The Punakaiki area is worth a visit in its own right, with its high limestone cliffs, river gorges and lush rain forest.

Arthur's Pass
The direct route between Christchurch and the West Coast (including its main towns of Greymouth and Hokitika) is across the Southern Alps, via Arthur's Pass. The route is best known for the TranzAlpine train ride, but the road journey is at least as impressive, as (unlike the train which passes through a long tunnel) the road crosses the high point of Arthur's Pass and descends the dramatic Otira Gorge.
To the east of the Southern Alps main divide, the road threads among the mountain chains of the Canterbury High Country, with its montane basins, subalpine lakes and limestone formations. The highway has numerous view points and walking tracks, and you may see New Zealand's mischievous alpine parrot, the kea.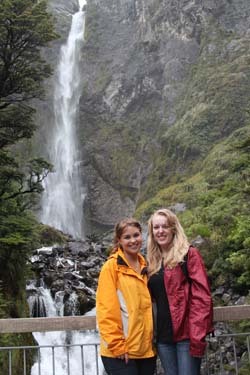 Dunedin
The South Island's second largest city is a lively student town, with some of the best-preserved Victorian and Edwardian architectural heritage in the southern hemisphere. It is an excellent base for viewing coastal marine life.
On its doorstep, on Otago Peninsula, are opportunities to view sea lions, the world's only mainland colony of albatross (here, the Royal Albatross, one of the world's largest flying birds), and the Yellow-eyed Penguin, the world's rarest penguin. You may also like to visit Larnach's Castle, a large historical mansion positioned to catch the best coastal views on the peninsula.
South of Dunedin is the Catlins region – a remote area of wild beaches, high headlands, waterfalls and marine life. The top attractions are the wild coastal scenery at Nugget Point, and the Jurassic petrified forest at Curio Bay.

Oamaru and the Moeraki Boulders
On the coast north of Dunedin, Oamaru is best-known for its well-preserved 'whitestone' quarter; several narrow streets strikingly lined with Victorian commercial buildings and warehouses, all constructed of creamy limestone from nearby quarries. At Oamaru you can visit a viewing area to see little blue penguins coming to shore after their day's fishing in the Pacific Ocean.
South of Oamaru are the Moeraki Boulders, a striking cluster of large hemispherical boulders scattered across a sandy beach.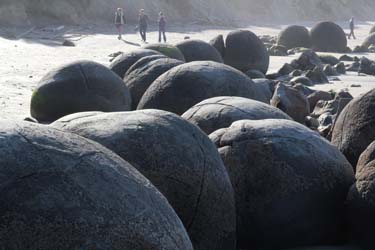 Nelson
Near the northern end of the South Island, Nelson is one of the sunniest towns in New Zealand and is a popular destination for its beaches and early colonial heritage. The city and region are a centre of creative arts and crafts, with numerous galleries and shops specialising in glass, sculpture, painting, ceramics and jewellery.
Nelson is also the gateway to several national parks, including the Abel Tasman National Park with its lovely coastal tracks and some of the best sea kayaking in New Zealand.

Marlborough
Any wine enthusiast can tell you about the Marlborough region's world class wines, in particular sauvignon blanc. This is New Zealand's largest wine producing region, and there are numerous boutique wineries open for tasting and dining. There are other attractions near Blenheim. including New Zealand's most fascinating aviation museum, specialising in World War I fighter planes.
To the north of the wine area are the Marlborough Sounds, a beautiful region of sunken valleys with long, deep waterways enclosed by forested hills. The area is popular for walking, boating, or just relaxing in one of the many dreamy remote spots in the Sounds.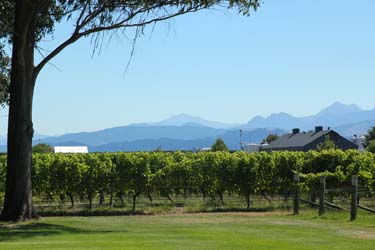 Kaikoura, on the route to Christchurch, is a popular seaside town that is best known for its marine wildlife cruises including whale watching, swimming with dolphins and seabird watching.


ACCOMMODATION
On your South Island itinerary, you have a range of quality, proven accommodation to choose from: homely Bed and Breakfasts, hotels, motels, boutique hotels or lodges. They can be found in bustling resorts, quaint towns or serene places in the middle of nowhere. The choice is all yours.
The Inside Story will recommend suitable accommodation for you, depending on your preferences and budget – whether it is a clean, well-equipped motel unit, or a top-of-the-market lodge, most destinations have excellent, well-sited accommodation to suit your needs.
Request more information about a private guided South Island tour

'Everything ran very smoothly; great information, wonderful company, and absolutely no problem.' – Juan, Spain
'My sisters, brother and I had a very enjoyable trip in March to the South Island, New Zealand, thanks to our very nice and knowledgeable guide Terry Thomsen. Terry is a soft spoken and obliging guide who also knows a lot about the history and geography of New Zealand. We not only enjoyed ourselves, but gained a lot of insights on the history, culture and geography of New Zealand. I have no hesitation in recommending his services to you.' – Lim Bee Imm, Singapore.