Day tours in and around Christchurch
Bring your Christchurch visit to life with a private guided custom tour with your own personal tour guide. Group size from 1 to 10.
Enjoy a relaxing day out, seeing some of New Zealand's best scenery in destinations as diverse as Akaroa, Arthur's Pass, Kaikoura and Mt Cook – while gaining valuable insights into Christchurch, Canterbury and New Zealand in general. Enjoy more roadside stops and photo opportunities, or take optional short walks.
Your private guide is Terry Thomsen. Read about Terry here
'Terry is an exceptional guide. We would recommend him and his tours to anyone. He makes the entire journey relaxing and memorable.' – Angie, Melbourne
'This was a great tour, it was a great mix of geology, history, culture and gave us a great feeling for how "kiwis" live. This was a highlight of our time in New Zealand' – Jeanne, USA

Scroll down for private day tours from Christchurch:


CHRISTCHURCH Tour
Despite the destruction of the 2011 earthquakes, Christchurch retains many charms. Among them:
Gothic renaissance stone buildings such as the Arts Centre and museum, lovely public gardens and the meandering Avon river;
Sandy beaches and the Avon estuary, set among high headlands of volcanic rock;
Christchurch's historic port town of Lyttelton, a mix of working port town and trendy cafes and bars;
The Port Hills, the eroding rim of an extinct volcano. Enjoy expansive views across Christchurch and Lyttelton harbour.
Interwoven into the tour, you will learn about the landscapes, nature, history and culture that together make the city of Christchurch what it is today. The Inside Story's private custom day tour of Christchurch city and surrounds will open your eyes to this fascinating corner of New Zealand.
Note that your tour can be modified to include attractions such as Christchurch's International Antarctic Centre (which includes a live penguin enclosure).
Central Christchurch private walking tours are also available. Minimum of two hours. Please enquire for rates.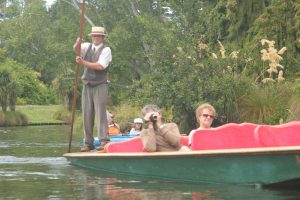 Enquire about a private guided Christchurch tour


AKAROA and BANKS PENINSULA Tour
Banks Peninsula is a treasure on the doorstep of Christchurch. Long-extinct basaltic volcanoes have eroded away, leaving a network of high craggy hills, deep valleys and long, lonely bays which were the scene of Canterbury's earliest and most eventful Maori and European settlement.
A day spent gently meandering around Banks Peninsula can include:
Take the high Summit Road, with expansive views of Akaroa Harbour and the outer bays.
Visit several beautiful remote bays.
Spend time strolling around Akaroa, founded by the French, and one of New Zealand's most charming seaside towns.
A popular option is to take an Akaroa Harbour nature cruise. You will get close to dramatic coastal cliffs, and have a high chance of viewing rare Hector's dolphins.
Optionally visit the dazzling Giant's House garden, or take a nature walk in a remnant of the great forests that once covered the peninsula.
Enquire about a private guided Akaroa tour


ARTHUR'S PASS and SOUTHERN ALPS Tour
Arthur's Pass National Park is in the heart of the best mountain scenery easily accessible on a day tour from Christchurch.
This tour visits the Southern Alps with its snow-clad peaks, mountain streams, broad gravelly rivers, pretty subalpine lakes and large limestone outcrops.
You will see the visible effects of rapid mountain uplift and ice age glaciations, and walk in the native 'southern beech' forest and the tussock grasslands. You will learn about the early human history in an often inhospitable landscape. You may see a kea, New Zealand's mischievous mountain parrot.
There are a number of stops and short walks where you can enjoy the remote, silent and unspoilt expanses of the South Island's high country.
Incorporating an optional one-way ride on the renowned TranzAlpine train through the Waimakariri River gorge to Arthur's Pass will give you a rewarding round trip.
NOTE that a return trip solely on the TranzAlpine train omits some of the best scenery in the area including the crossing of Arthur's Pass and the Otira Gorge. If you would like to take the train, then a tour encompassing both road and rail options is recommended.
Enquire about a private guided Arthur's Pass tour

KAIKOURA Tour
The small coastal town of Kaikoura, sandwiched between sea and mountains, is a pretty destination in its own right.
However its true wonders lie offshore, in the waters that overlie the southern end of the deep Hikurangi Trench. The nutrient-laden waters support a myriad of life: fish, seals, dolphins, sea birds and mighty sperm whales.
This is the only place in New Zealand where you can go whale-watching. Alternatively take a sea bird tour to get close to large albatrosses, mollymawks, petrels and shearwaters. Active visitors may like to go swimming with dolphins (or simply dolphin watch) or seals – on a good day, this is absolutely memorable.
Kaikoura is two and a half hours drive north from Christchurch, and is within easy reach on a one day tour. On the way, you pass through the Waipara wine region, the rolling hills of north Canterbury and finally the beautiful coastal drive that hugs the rocky shoreline south of Kaikoura.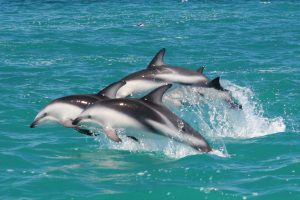 Enquire about a private guided day tour to Kaikoura

WEST COAST and PUNAKAIKI Tour
The patterned limestone rock formations at Punakaiki are pounded by waves off the Tasman Sea, causing blowholes and surge pools. This is one of the West Coast's top attractions, and is at its most spectacular in rough weather.
This is a long but rewarding day, enabling you to visit an amazingly wide range of scenery in a single day, in traversing the South Island from east to west. We drive through the mountain scenery of Arthur's Pass (see Arthur's Pass tour above), and descend to the lush rainforests of the West Coast. The last section of the journey is one of New Zealand's most dramatic coastal highways.
Enquire about a private guided Punakaiki tour

TEKAPO and AORAKI/MT COOK Tour
If you want to get among New Zealand's highest mountains, and view the fascinating milky blue lakes of the central South Island's MacKenzie Basin, then take a one day tour from Christchurch to Tekapo and Aoraki/Mt Cook Village (and return) – this is a long day and you should allow at least 12 hours for the tour.
At Tekapo, you can visit the much-photographed Church of the Good Shepherd set by the lake shore, and enjoy a panoramic view of lakes and mountains from Mt John.
At Mt Cook Village, you may take a short walk to a glacial terminal lake, or alternatively take a scenic flight or helicopter ride over the Southern Alps.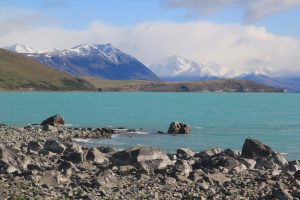 Enquire about a private guided Tekapo and Mt Cook tour

HANMER SPRINGS Tour
Visit the pretty sub-alpine village of Hanmer Springs in North Canterbury. You can take a dip in the attractively-landscaped hot springs (the South Island's largest thermal pool complex), get pampered in the spa, or enjoy some of the activities in the area, such as forest walks, horse trekking, jet boating or quad biking.
The Waipara wine region is en route to Hanmer Springs, and you can incorporate a visit to one or more wineries.
Enquire about any private guided day tour

PRIVATE GUIDED DAY HIKE
If you are reasonably fit, you may like to take a hike among the mountains near Arthur's Pass National Park. The drive to the hike is interesting in its own right, passing through plenty of alpine scenery along with subalpine lakes and limestone formations.
The track itself climbs steadily through picturesque mountain beech forest, to a point with expansive views across to the Southern Alps.